Spring Cleaning Checklist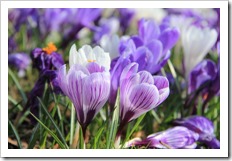 Spring is here – at least the calendar says it is. This so-called March equinox (night and day are nearly exactly the same length – 12 hours – all over the world) has long been celebrated as a time of rebirth and growth. Spring cleaning is a tradition that goes back to Roman times. It is a time for physical and mental cleansing – depart with the old and make room for the new.
We all feel better when things are clean and organized. It's relaxing and calming. It puts the mind at ease and we are happier and more energized.
Pick a time when you are not in a rush and, if you have a spouse and/or kids, make certain to get everyone in your household involved. Roll up your sleeves, turn up the music and start. Remember: This is a big job and will have to be spread out over several days or weeks depending on your schedule.
Dust and wipe all furniture always starting from the top and going down. While you are doing that, you will come across a lot of things that you don't need or want anymore. Have bags ready for donation and put them in. Make sure no items are left on the floor.
Empty your bookcases and wipe the shelves clean. Before putting the books back look at each one and decide whether you will ever read this book again. If the answer is "No", it goes in the donation pile. You will be surprised how many books will end up in this pile.
Look at all your magazines. Keep one year at the most and let the others go.
Evaluate whether you are still reading the magazines or if the renewal has just become a habit. Be honest with yourself. If you don't have the time, unsubscribe.
(This task happens after you have finished all your cleaning!)
Wipe your TV with a damp cloth and look through your Video/DVD collection. Any movies that can be donated? Add them to the donation pile. Miscellaneous cables/chargers go into a separate bin. Decide at the end of the cleaning process which chargers are clearly needed and which ones are not. The city of Toronto will pick up electronics in separate clear bags on garbage day.
Wash all your windows (inside and out) and let the fresh air come in
Wipe window and doorframes as well as doors with a damp cloth
Wash your curtains and enjoy the fresh smells
Remove all spider webs from ceilings and walls
Dust lampshades and clean bases
Get your kids to look through all their toys and decide which ones can go. Each category (books, games, puzzles, lego etc.) has to have its own bin or shelf so that it's easy for the kids to tidy up.
In the bathroom look through all your cosmetics, hair and skin products. Also check your medicine cabinet. Everything that has expired can go back to your local pharmacy for disposal.
Vacuum all carpets and remove stains
Vacuum floors and wipe with wet cloth after
Empty your refrigerator, clean it and check your food that goes back in. Anything that has expired goes into the green bin. Do the same with the pantry.
Wipe all counters thoroughly and make this a daily habit
Go into your closet and try on all your spring and summer clothes. Donate everything that doesn't fit you anymore, is stained, ripped or you don't like – even if it was a gift. Make room for the things you will buy and allow enough room for you to see everything you have at first glance. If drawers and shelves are cramped with things you have too much and need to purge more.
Remember that in order to bring new things into the home, others must leave first!
Be wary of buying lots of specialty organizing products, the sheer volume of these is often overwhelming. Remember that the focus is always on reducing your possessions which might make the purchase of storage containers redundant. If, however, you feel you would like to buy some organization products, wait until you have purged – then you'll know exactly what you need.
Spring cleaning is a very rewarding experience. I definitely recommend it.