Mother's Day is not about blenders
MOTHER
[muh-th-er] (n.)
One person who does the work of twenty. For free.
(see also masochist, loony, saint)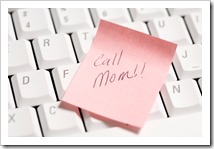 In a couple of weeks Mother's Day is coming up and wherever you go you get bombarded with advertisements. One of the ones that really irritated me was an ad from a very well-known kitchenware company that said "Power Her Day" and had a personal blender in the background. Now, I don't know about you but that's really an item I can live without. Can't you? Do we really need another gadget in the house to mix smoothies for everyone?
Most mothers I know would love to be pampered in one way or another. Massages, facials, pedicures, manicures are always great gifts and won't go to waste. Or take Mom out to her (!) favourite restaurant so she doesn't have to cook or do dishes. Take a stroll at the Beaches together, have a yummy brunch! If money is an issue give her the gift of freedom for a whole day – no responsibilities, no chores – someone else is taking care of everything for 10 hours. This was my favourite gift when my daughter was little. I felt like a different person when I came back home. It doesn't have to be something grand to say you love your Mom. It's the little things that count. A picture the kids made in school is priceless. My daughter used to give me coupons for helping out in the home. I loved it! It was special because she really thought about it and spent time making it.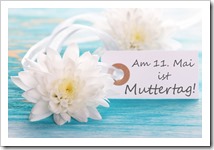 As my mom lives in Germany I can't meet her easily, however, I arrange for a flower delivery from here and we will go out to her favourite coffee shop when I go back to visit, which will be in July this year.
The important thing to remember is that you don't need a big pocket book to make your Mom happy. Simply give her your time and enjoy!