The Fun of Travelling and What to Pack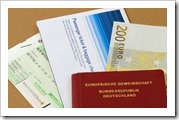 At the end of this month I'm travelling to Europe with my family. We will fly to London, England and then go via rail to France and Germany where my parents live. I'm really looking forward to it, however, one thing I really loathe is packing.
I always pack at the last minute (because I don't like it) and pack way too much (because I can't decide what not to take) even though I know that I am always buying things when I'm there. This time we have to pack and unpack several times AND pull our luggage through multiple airports and train stations, so I have made up my mind to pack lightly and this is the list of my must-haves when going away divided into different categories:
Clothing

Undergarments (panties and bras)
sleepwear
7 pairs of socks
7 pairs of short-sleeve T-Shirts
3 pairs of tank tops
2 pairs of long-sleeve shirts
2 sweaters
1 outdoor jacket
2 pairs of jeans
1 pair of shorts
2 regular pairs of pants
1 dress
1 blouse
2 swimsuits
1 scarf
1 pair of running shoes
1 pair of sandals
1 pair of dressy shoes
1 pair of flip flops

Electronics

Digital camera
Cell phone
Laptop
Other mobile devices, like E-reader
USB flash drive
GPS device for driving in Europe
Noise-cancelling headphones

Documents

Passport (make 2 copies and leave 1 set with a friend and
take 1 with you)
Credit cards
Foreign currency
Printout of airline tickets
Rail pass
Driver's licence
Confirmation emails from hotels

Medications

Prescription medication
Band Aids (for all your blisters)
Antihistamines (helps with jetlag, too)
Saline nasal spray
Pain reliever
Vitamins (these are very expensive in Europe)

Miscellaneous

Sunglasses
Umbrella
Power Plug adapters
Laundry soap/spot remover
Packet of tissues
Inflatable pillow or neck rest
Gifts for family, friends
Toiletries (I'll suggest travel sizes for all your
products. Everything
you use here will also be available there)
Things to take care of before leaving
Purchase a travel medical package for all the places you will be visiting.
Get a roaming package for your cell  phone to avoid huge bills.
Order some local currency to take with you (small amounts can only be paid in cash!! Credit cards are accepted in most (not all!) stores in Europe, however, in order to be sure look for signs that say Visa/Mastercard.
Tell your credit card company you are travelling oversees so that they don't get suspicious and freeze your cards (I speak from experience …).
Stop your mail and newspaper delivery.
Provide dog sitter with the name of your vet and other vital information.
Talk to your neighbour about being away and in our case looking after the garden and the pool.
Buy books
Last but not least
try EVERYTHING on before packing. If it doesn't fit, don't bother taking it.
Make sure different pants and tops match so you can create different outfits.
Pack things that are easy to take care of and can be washed (remember you won't have the selection of clothes that you have at home).
Don't worry about not speaking the language (except in Paris!). Most people speak English and are happy to help. They love Canadians!
Have Fun!!!!!