Are you satisfied with your kitchen?
One of the most common remodeling projects undertaken by Canadian homeowners is the kitchen.
But what do we really want in a kitchen?
North Americans, of course, need LOTS of storage. We want a big enough pantry to store all our supersized cereal boxes and all the other knick-knacks we have. We need stainless steel appliances and of course stone countertops. An island to prepare our foods on, attractive lighting, wide-planked wood flooring, vintage doorknobs
But, do we ever think about ergonomics when planning a kitchen? For example, pull-out drawers versus built-in cabinets?
Yesterday, a group of us from the Toronto chapter of the Professional Organizers of Canada, were invited to Blum Canada, (www.blum.com), a fittings manufacturer from Austria. This family business, with more than 6000 employees worldwide, develops ergonomic, and highly usable, furniture solutions that open and close with ease.
According to Blum Canada, a 4-person household in North America has 250kg of stuff stored in the kitchen – equal to 28 shopping carts!
Blum has fitting systems for wall units, cabinet doors and drawers. With a single touch, the fronts of the wall cabinets glide open. Drawers glide like feathers – even with heavy pots and pans in them. Lift systems stop in every desired position – it's simply amazing!
Just have a look at this space corner cabinet – very cool, and very, very practical!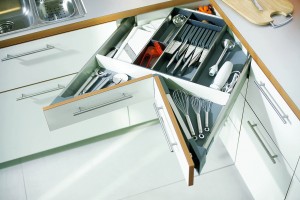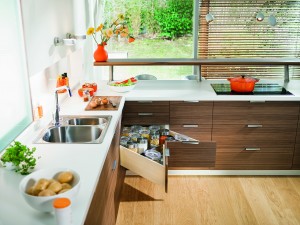 Company staff also test their products while wearing a special suit, called the Age Explorer, that simulates movement limitations the older population frequently faces. One person in our group volunteered to wear the suit and it was very obvious that bending down, or kneeling on the floor, while reaching into the back of the cabinet to retrieve an item, was a slow and difficult process. That demo was a big eye-opener and extremely informative.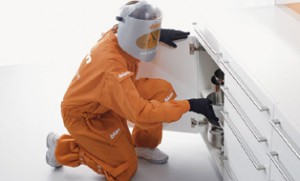 The next time you are thinking about renovating your kitchen, think about ergonomics and usability as well as the appearance, and take a look at the Blum products. They are really unique!